Despite the rapid approach of the holiday season – with plenty of investors going on vacation – there has still been plenty of financial news to contemplate. Of course, the biggest news item in the world of investments has been the rapid rise of the price of bitcoin, along with the launch of bitcoin futures.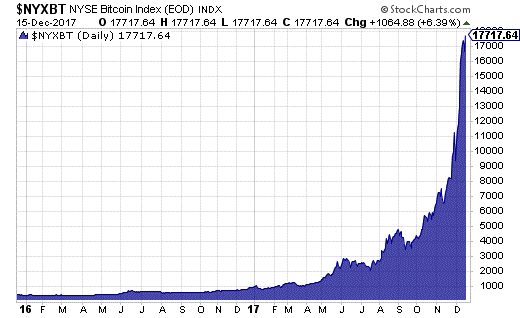 Actually, "rapid rise" is putting it mildly, as the price has basically gone straight up. The craziness and popularity of cryptocurrencies is probably why we've heard almost nothing about gold. It seems like a long time since the masses were clamoring for every ounce of gold they could get their hands on.
These days, gold is barely an afterthought. Who needs precious metals when you can buy bitcoin… or so it seems.
Of course, many investors know better than to fully write off gold. Interest in the yellow metal has always been cyclical There's no doubt gold will rise again, probably about the time this whole cryptocurrency bubble bursts and investors start panicking.
At least one big options trader is very bullish on gold as early as next month. He or she executed a sizeable trade in January options of SPDR Gold Shares ETF (NYSE: GLD) called a risk reversal. This strategy uses premium from short puts to help finance a long call positon. CONTINUE>>>>>>>