In the latest annual energy outlook from BP PLC (NYSE: BP), it was the first time the company forecast oil demand would eventually peak and then steadily decline. BP put the date for peak oil demand in the late 2030s.
And the cause is one I've told you about quite often in my articles – the rise of electric vehicles. BP said there would be 300 million electric vehicles on the road by 2040, up from about 3 million today. BP says electric vehicles will account for only 15% of the roughly 3 billion cars on the road in 2040. But they will account for 30% of all passenger car transportation, as measured by distance traveled, because so many of them will be shared vehicles, à la Uber.
BP's outlook also envisaged renewable power growing from just 4% of global energy consumption today to 14% in 2040.
Add all of that up and you can surmise that a lot of changes are ahead for the oil industry. Yet only some of the world's major oil companies are preparing for what the future will hold.
Your Friendly Neighborhood Power Provider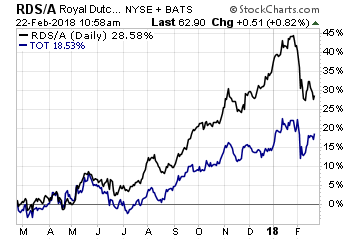 The oil companies that seem to have begun the process of adapting to a lower carbon economy are located across the pond in Europe. These include Royal Dutch Shell PLC (NYSE: RDS.A and NYSE: RDS.B), Total SA (NYSE: TOT) as well as the aforementioned BP. Both Shell and Total, for example, have invested heavily into natural gas as a cleaner alternative to coal for power generation.