The media wars have heated up, all thanks to a British company called Sky PLC (OTC: SKYAY). The company has three American suitors – Comcast (Nasdaq: CMCSA), Walt Disney Company (NYSE: DIS) and Twenty-First Century Fox (Nasdaq: FOX) – all vying to tie the knot with Sky.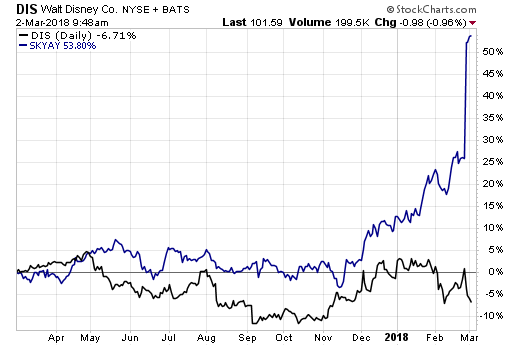 It seemed straightforward enough… as Disney's $66 billion offer for some of Fox's assets that would include 39% of Sky, allowing Disney to expand its international presence. Separately, Fox is trying to buy the 61% of Sky that it does not own with an offer worth in excess of $16 billion. So eventually, it was thought, Disney would own all of Sky.
But then Comcast jumped in with a $31 billion all-cash bid for the entirety of Sky. Comcast is desperately looking for growth outside of the moribund U.S. cable business where cord-cutting by consumers makes Comcast particularly needy.