Monthly oil output in the U.S. this year topped 10 million barrels a day for the first time since 1970, hitting all-time records. And the surge has just begun.
On March 5, the International Energy Agency (IEA) released its forecast that predicted U.S. shale output would rise by 2.7 million barrels a day to 12.1 million barrels per day by 2023. As the IEA's executive director, Fatih Birol said in a statement, "The United States is set to put its stamp on global oil markets for the next five years."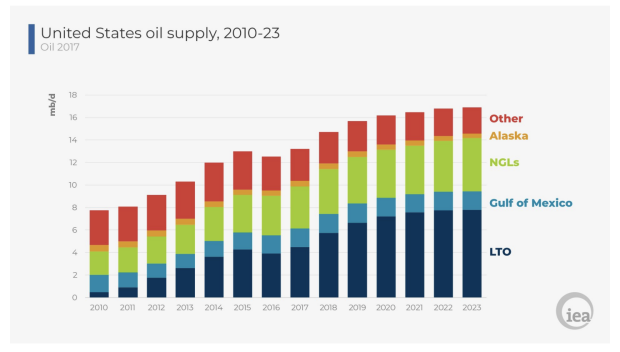 (Of that 16 million in 2023 the IEA projects that 12 million will come from shale)
U.S. Oil Exports
Importantly, Birol expects U.S. oil exporting capacity to more than double over the next five years from 1.9 million barrels late last year to 4.9 million barrels per day by 2023. That's a good thing. Let me explain…
First, additional domestic demand for shale (mainly from the petrochemicals industry) will be around 900,000 barrels a day, according to an estimate from the energy research firm Wood Mackenzie. That's not close to sopping up the extra oil produced.
An even bigger factor is the U.S. oil refining system, which was built many years ago. It runs much more efficiently on a steady diet of heavier, more sulfurous oil such as oil that comes from many OPEC countries. U.S. shale oil is mostly a light, 'sweet' crude oil variety.
Bottom line – a lot of the additional oil produced must find a market overseas, such as Europe or China. That's just another reason a trade war is not a good idea. And why it was a good idea to remove the decades-old restriction on the export of U.S. crude oil in late 2015. U.S. exports of crude oil and petroleum products climbed more than 1.7 million barrels per day between December 2016 and December 2017 to a record 7.3 million barrels a day.