What is likely the best performing high-yield stock just went ex-dividend. I recommend adding to big dividend stock positions after the ex-dividend dates, to usually pick up shares at a cheaper price. While I highly encourage income-focused investors to make sure they diversify into at least 20 dividend stocks, there is one that is a must-own, 11% yielding REIT that is also growing its dividend payments.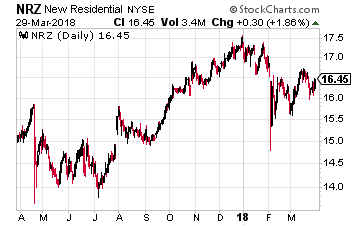 New Residential Investment Corp. (NYSE: NRZ) is a finance REIT that invests in products that are on the financial fringe of the residential mortgage industry. The largest investment is in mortgage servicing rights –MSRs. These are the contractual fees the mortgage servicing company receives out of the interest paid on a home mortgage. MSRs are typically 25 basis points (0.25%) per year. The cost to service a mortgage is typically less than 10 bp. The rest is profit to the company that owns the MSRs. New Residential owns full or excess MSRs on over half a trillion dollars of unpaid mortgage balances. 25 basis points of that much loan balance is a lot of cash flow!
Recently NRZ has been buying up call rights on non-agency mortgage backed securities. Currently the company owns rights on $145 billion of unpaid balance MBS. This is 30% of the entire non-agency MBS market. New Residential executes what it calls "clean up" calls on the MBS, repackaging the loans into new securities. It is a profitable business.
The company owns a portfolio of opportunistic residential mortgage and consumer loan portfolios. New Residential has been very successful at finding opportunities for great returns from loan portfolios that don't fit into the needs of traditional buyers of these products. For example, the company has earned an 89% annual internal rate of return on a portfolio of consumer loans purchased in 2013. Target returns are 15% to 20%, and the results have often exceeded the targets.
In 2017, NRZ became an approved mortgage servicing company in all 50 states. On November 29, 2017, New Residential announced definitive agreements to acquire Shellpoint, a non-bank mortgage originator and servicer. These moves allow the company to keep MSR servicing internal or contract it out, depending on what makes the most sense financially and profitably.