Last year at the Berkshire Hathaway annual shareholder meeting, billionaire Warren Buffett stated: "We have got a big appetite for wind or solar." This high-yield stock is a pure play wind and solar energy producer that was just upgraded by Goldman Sachs. View the recent share price decline as an opportunity to invest in the renewable energy sector at a great buy-in price.
Pattern Energy Group (Nasdaq: PEGI) is an owner/operator of 20 wind power facilities, including one project it has agreed to acquire, with a total owned interest of 2,736 MW in the United States, Canada and Chile. Each power facility is contracted to sell all its energy output, or a majority, on a long-term, fixed-price power sale agreement. Ninety-two percent of the electricity to be generated by the facilities will be sold under these power sale agreements, which have a weighted average remaining contract life of approximately 14 years.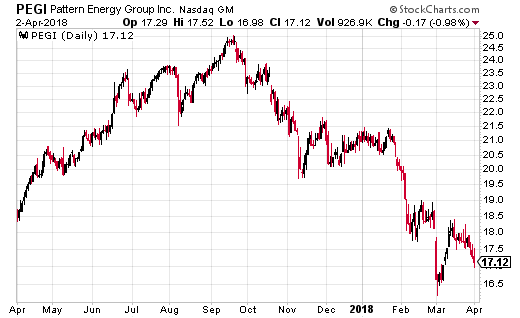 The company has been focused on growing its portfolio since the 2013 IPO. At that time the company owned 1,041 MW of energy production capacity. The added and future acquisitions for Pattern Energy Group are sourced and developed by a related private investment company called Pattern Development. Pattern Development is more like an investment fund that searches out renewable energy production projects to fund. Management has a stated goal of reaching 5,000 MW of owned capacity by 2020. At this time the company already has over 1,000 MW of new projects where PEGI has the right of first offer to purchase the projects when they are ready to come on line. In its long-term development pipeline, management claims visibility on up to 10,000 MW.
Related: Sell This Popular High-Yield Clean Energy Stock ASAP