Income stock investors are most interested in the safety of the dividends paid by the stocks they own. However, investors in high-yield stocks need to understand that those yields exist because the investing public believes there is significant potential for a dividend cut. When dividends are viewed as completely secure, yields are lower. On the other side, there are high-yield stocks where the market evaluation as indicated by the yield, is wrong. These are the companies that an income focused investor wants to find and own.
High-yield stocks can be divided into three categories, based on the individual company prospects in relation to the high-yield expectation of a dividend cut.
The market is WRONG. These are high yield stocks where the market is just inaccurate about putting a big yield on the stock as a sign of a potential dividend reduction. In fact, these are companies that can sustain and even grow their dividends. This type of stock is the Holy Grail for income investors. To find them tax extensive cash flow analysis and an understanding of exactly how a company's business generates revenue and cash flow.
The market is RIGHT. These are high yield stocks that will eventually cut their dividend rates, resulting in stock price declines and smaller dividend payments. That is a lose-lose proposition that income investors want to avoid. To avoid this type of stock, investors need to learn the warning signs for dividend cuts and review each stock they own or consider seeing if they exhibit one or more of those signs. These are stocks to sell out of investors' portfolios.
The probability of a dividend cut is UNCLEAR. These are dividend stocks where the arguments for continuation of the dividend or a pending dividend cut are balanced. These are stocks where the current business operations provide sufficient cash flow to pay the dividend, but there are challenges to the business operations that could force a Board of Directors to decide to reduce the payout to shareholders. These are speculative investments, like buying shares of Tesla (Nasdaq: TSLA) on the hope the company can turn profitable before it is forced into bankruptcy. With the high-yield stocks in this category, you get to earn big dividends while waiting to see what happens to the company. If the dividend is cut, investors will experience losses. If the business is managed to sustain the dividends, investors will likely realize nice share price gains to add to the dividend earnings.
I want to share with you today three stocks that fall into the third category. Keep in mind that they are speculative investments and there is significant potential for a loss. That is what speculating means. On the positive side, successful speculating can bring nice gains to your investment portfolio.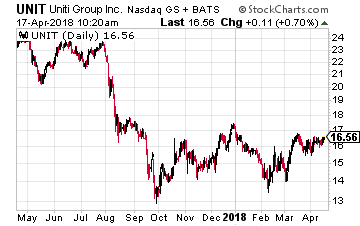 The 14.9% yield on Uniti Group (Nasdaq: UNIT) is a strong indicator that the market is concerned about the dividend paying ability of this company. As of late July 2017, UNIT was trading for $24 per share (it's now around $16) with a high single digit yield. At that time, Windstream Holdings, Inc. (Nasdaq: WIN), which accounts for two-thirds of UNIT's revenue, eliminated its dividend and put intense focus on the telco's ability to stay out of bankruptcy.