With this year's tax filing deadline date just past, it's a good as time as any to take a look at a few special situations whose stock prices were hit because of recent changes in tax policies.
The first company I want to tell you about is one that has become a real life example of the law of unintended consequences…
Congress changed the way American corporations are taxed on their overseas earnings. Previously, firms were taxed at the 35% rate. But most companies avoided that by booking their income overseas and then keeping the money there.
So Congress came up with GILTI (Global Intangible Low-Taxed Income), which was set at 10.5%. Its main target was the tech and pharma companies that transferred their trademarks and patents overseas to avoid paying tax on them.
Kansas City Southern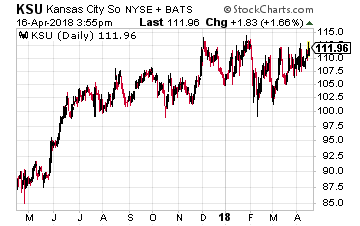 But this new tax intended to tax overseas income earned by U.S. technology and pharmaceutical firms and their trademarks and patents has hit closer to home with the railroad company Kansas City Southern (NYSE: KSU), which has a substantial business in Mexico.
Even though its main assets are railcars (and not intellectual property) and it already pays a 30% tax in Mexico, it will also be hit by GILTI. That's because of the way the new tax interacts with the treatment of foreign tax credits that are supposed to prevent two countries from taxing the same income. When companies figure out the credits they receive for paying taxes overseas, the law typically requires them to assign some of their domestic expenses to foreign jurisdictions.
The result for some firms like KSU is that, for U.S. tax purposes, their foreign income and foreign taxes look smaller than they actually are. This actually shrinks their tax credits and may force them to pay the GILTI tax on top of their foreign tax bills. In particular, it hits companies with operations in high-tax countries like Mexico, Germany and Japan.
So the net effect for companies like Kansas City Southern from the new tax law is practically nil, receiving almost no net boost. Nevertheless, I do like the company because of its large exposure to Mexico (it owns one of two large regional railroads in the country) and its 50% ownership in the Panama Canal Railway Company.