Remember when social media stocks were all the rage? It already seems like a long time ago when the market eagerly awaited any social media company going IPO. Typically the shares were snapped up right away and the stock would soar.
Twitter (NYSE: TWTR) is probably the best example of this fad. The microblogging site went IPO in 2014 and the stock soared above $50 per share. It was still above $50 about a year later. But, by mid-2015, reality hit.
Investors started to figure out that, besides Facebook (NASDAQ: FB), it was very difficult to generate ad revenue growth on social media platforms. As the numbers started coming out, TWTR stock got hammered, dropping below $15 in 2016.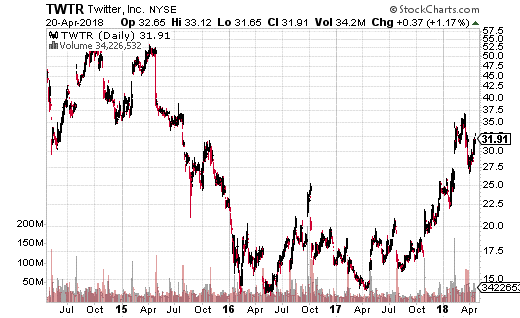 However, when a company has several hundred million users, you can't just write them off entirely. Lately, TWTR has gotten the attention of the investment crowd again, and is back above $30.