The U.S. home building industry faces a Jekyll and Hyde situation. The good news is that the home construction industry has built much fewer houses over the last decade than are needed by a growing population and new household formations. At the same time builders face headwinds from rising material costs, labor costs, and higher mortgage rates. The opposing forces may make it tough for home builders to grow profits, but material supplies—lumber producers—should continue to see growing profits from higher prices.
A recent news article noted that the National Association of Homebuilders says rising lumber prices have already increased the average price of a single-family home by $6,400 since January of last year. Here is a chart published by the Wall Street Journal showing the lumber futures price.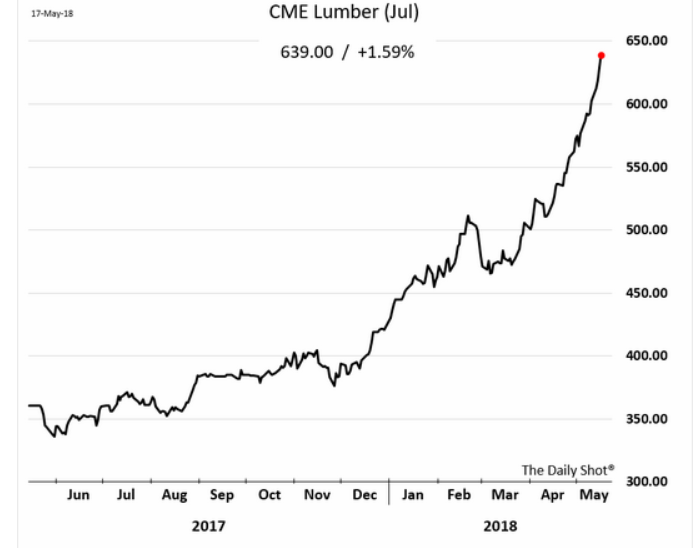 My expectation is that home builders will be able to build and sell enough homes to stay profitable. There is enough demand from the population needing additional housing to prevent enough of a slowdown to make building new homes completely unprofitable. If homes continue to be built, one of the winners will be the lumber producers.
There are three real estate investment trusts (REITs) that own timberland and sell lumber and other wood products. With the REIT structure these companies will likely pass along higher profits as rising dividends for share owners.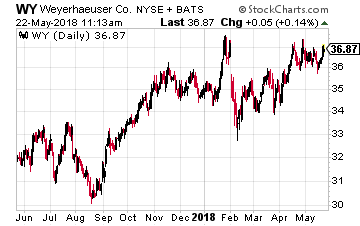 Weyerhaeuser Company (NYSE: WY) with a $27.6 billion market cap is one of the largest companies in the REIT sector. The company converted to a REIT in 2010. Over the last six years, Weyerhaeuser has doubled its timber holdings to 12.6 million acres. These holdings make the company the largest private timberland owner in the U.S.
To process and sell the timber, Weyerhaeuser owns 35 mills and 18 distribution facilities. In 2017 adjusted EBITDA grew by 30%. For the 2018 first quarter, EBITDA was up 20% year over year and net income per share was up 63%.