When it comes to income stocks, my investment strategy is aggressive. By aggressive I mean that I search out the highest yield stocks I can find where my research shows that the dividends should be secure.
I understand that with this type of high-yield stock, even the best stock research won't let me avoid the occasional dividend cut. For balance, my overall strategy includes owning dividend stocks that are more conservative. These are shares of companies that will sustain and grow dividends through the worst market cycles.
You may be asking, what makes one high-yield stock safer than shares of other, comparable companies. While the business operations of each company are unique, there are certain attributes that will tell you whether the revenues and cash flow of a company could be at risk with a disruption in business conditions, such as the 2007-2008 financial crisis, or an economic recession.
Here are the financial items you should review and understand to determine the security of dividend payments.
Stability and consistency of the revenue stream. How predictable is a company's revenue stream? On the secure end would be a REIT that leases to government agencies on long term contracts. That company knows it will get paid. Hotel REITs are at the other end of the spectrum, where room rates and how full the hotels are can change every day.
Access to capital to pay for growth projects. To grow a business needs sources of capital to pay for new projects or acquisitions. The most stable source is from internal business generated cash flow. However, most high yield companies pay out most of the free cash flow as dividends. The other options are to issue common stock or take on debt. When the economy gets iffy, a company with an investment grade credit rating will have more options than a non-investment grade company. It is possible for a less financially stable company to be shut off from the capital markets.
Cash flow coverage of the dividend. It may not be immediately apparent how much cash a company generates in relation to the amount paid as dividends. Cash available for distribution (CAD) can be significantly different from earnings per share. A company that is paying out 90% or more of CAD has little flexibility to sustain the dividend if business conditions deteriorate. A lower payout ratio of CAD means the dividend is more sustainable.
Here are three companies that meet one or more of these criteria for safety of dividend payments.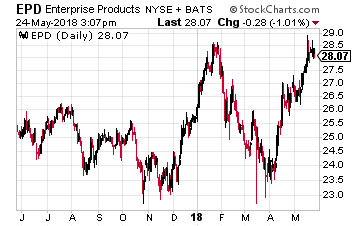 Enterprise Products Partners LP (NYSE: EPD) is, by market cap, the largest energy infrastructure master limited partnership (MLP). The company provides essential crude oil, natural gas, natural gas liquids (NGLs) pipelines and services. The company also provides petrochemical and refined products services. These are essential services, without which the U.S. energy sector could not function.
One sign of EPD's financial strength is that the company has increased the distribution paid to investors for 55 consecutive quarters.