There was good news recently for supporters of solar energy…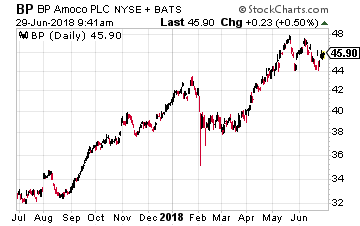 Despite tariffs imposed on imported solar panels, the United States installed more solar energy than any other source of electricity (accounting for 55% of all capacity installed) in the first quarter of 2018. According to a report from GTM Research, there were 2.5 gigawatts of solar power installed in the first quarter, a rise of 13% from the year earlier period.
This was part of the move globally toward renewable energy. In its annual review of world energy released in mid-June, BP (NYSE: BP) revealed a surprising fact – 17% of the world's energy growth in 2017 came from renewable energy sources. That was the largest increase on record and the equivalent of the energy consumed by Sweden and Denmark in a year.

Much of this progress is the result of falling prices for solar panels, thanks to overproduction from Chinese companies. The International Energy Agency (IEA) estimates that solar power will soon be the cheapest source of new electricity in a number of countries.
However, there is a dark cloud on the horizon. As prices for solar power come down, government policymakers are moving away from subsidies for solar power projects and shifting toward auction-based systems to reward the lowest-cost producers of renewable electricity.