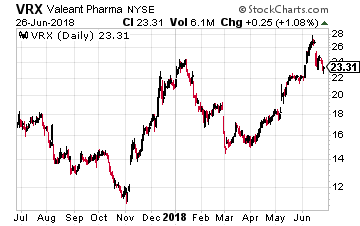 Kiss the much (and deservedly) maligned Valeant Pharmaceuticals International Inc. (Nasdaq: VRX)goodbye.
Well, kind of.
Next month, the Canadian-based healthcare firm will officially change its name to Bausch Health Companies Inc. and trade under a new ticker – BHC.
But it doesn't matter what the company calls itself. It's still not worth buying.
At first glance, you might wonder why, as it seems to be enjoying a decent turnaround.
Shares are up 35% over the past 12 months. And since hitting a 52-week low of $10.94 on November 2, 2017, the stock has soared 112%. It hit a 52-week high on June 13.
But don't get swept up with the tide…