Between PR-savvy corporate executives and babbling TV pundits, it's often hard to see through the fog when investing.
But if you crave blunt, brutal honesty, step forward, Mike Hickey.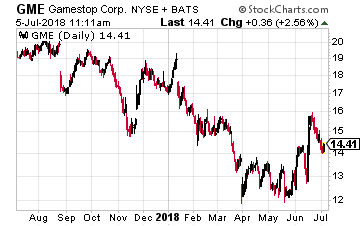 The Benchmark Company senior analyst pulled no punches in his assessment of GameStop Corp's. (NYSE: GME) leadership after the company's recent earnings report.
"No confidence in management."
"Management spent an agonizing amount of time congratulating each other on the conference call, including the promotion of Rob Lloyd to COO, and suggestive commentary that he would be strong potential for CEO candidate, which would continue the embarrassing trend of promoting internal candidates to key executive positions where they offer limited value."
"Under Rob's leadership as CFO, the stock peaked in Nov. 2013 at nearly $60, and subsequently fell an astonishing 77% as their poorly-planned and mis-executed diversification strategy failed. We believe the company is in dire need of new leadership, before prior/current board members/executives run the company to ruin."
Ouch.
A damning indictment on the world's largest video-game retailer.
Founded in 1994, GameStop sells gaming consoles, new and pre-owned games, and accessories (including controllers, memory cards, and both traditional and VR headsets). It also sells cellphones, tablets, speakers, TVs, smartwatches, apparel, toys, and collectibles across 7,200 stores in 14 countries and online.
But Hickey has a point…