Dividend investors face an extra challenge of timing stock purchases. No dividends will be earned until shares are bought. There are several techniques on when to buy that I use and recommend to investors who follow my Dividend Hunter system. For more aggressive income stock investors, jumping into out-of-favor high yield stocks can produce excellent returns.
In my previous article, I discussed three stocks that have done well so far in 2018 (all up over 20% YTD) and which I expect to continue to post gains for the rest of the year. Buying stocks in an uptrend is the safer strategy. If the moves are driven by underlying fundamentals, you can expect the trend to continue if the fundamentals remain positive. The trade off is that rising stocks have been discovered, and usually carry lower yields. The three that I highlighted on Monday have an average current yield of 5.4%.
For investors searching for higher yields, there is the challenge in analyzing whether dividends are secure or in danger of reduction or elimination. These are often stocks that have dropped significantly in value, and most investors get scared or nervous about jumping on shares where the price has recently gone through a steep decline. Bottom fishing for high-yield stocks is a more aggressive strategy. The investor must be able to determine if the company can continue to pay dividends, and there is a need for patience. It can take months or even years for a stock to recover to pre-crash levels. The good part is that these stocks can pay double-digit yields, which is a nice wage to earn while you wait. Here are three high yield stocks that illustrate the strategy.
More Reading: 10 Highest Yield Dividend Stocks Going Ex-Div This Week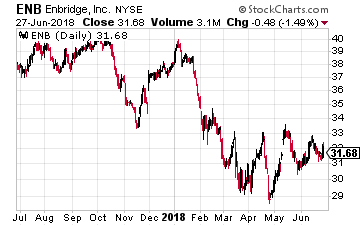 The share price of Enbridge Inc. (NYSE: ENB) has recently fallen from almost $41 to a recent $31.30 per share. The 25% decline has pushed the yield up to 6.6%. Enbridge is a large-cap owner and operator of energy liquids and natural gas pipelines across North America.
The stock has fallen due to a current tight cash flow in relation to the dividend, the costs of recent acquisitions, and a legal fight for approval to replace its crude oil pipeline that runs from Canada to the Great Lakes region. The company has a strong plan to work through these issues.
Management forecasts 10% dividend growth going forward after 2018. ENB shares now yield double their four-year average. That means the stock will double to get back close to that average yield.