Many investors continue to think of blockchain as merely the technology that Bitcoin is based on. But it is rapidly becoming a lot more than that. . . . .
In this next article in my series on blockchain technology, I look at the ever-expanding uses some of the leading companies in the world are finding for the use of blockchain. Here is just a small sample I want to bring to your attention, emphasizing the practicality of blockchain in all sorts of businesses.
Fixing the Opioid Epidemic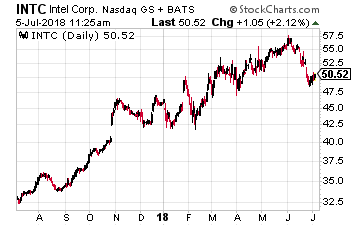 One novel use for blockchain technology is being undertaken by Intel (Nasdaq: INTC) and the pharmaceutical industry – tackling the opioid epidemic.
Intel's idea is to use blockchain to pinpoint where drugs "leak" out of the drug supply chain. The test began this spring when Johnson & Johnson and McKesson among others entered simulated data into new digital ledgers. The experiment will see how easy it is to track drugs as they travel from the manufacturer all the way to a patient's home.
The effort would include using sensors and scanners to ensure that information is entered accurately. After a pharmacy issues a drug and scans it, the record will immediately appear on the blockchain. Each bottle, and even each pill, would be traceable all the way through the supply chain. And any 'missing' drugs could then be investigated.