Typically, when growth in the video game industry is discussed, it's all about mobile gaming growth. After all, playing games on smartphones and tablets has been where most of the action has been in recent years, at least in terms of investing.
While casual gamers may still be driving plenty of business in mobile gaming, there's still ample opportunity in more traditional gaming platforms, such as consoles and PCs. In fact, these traditional platforms may be even more important looking forward as AR/VR (augmented reality/virtual reality) games become more popular (and accessible).
One of the biggest players in the video game industry is Electronic Arts (NASDAQ: EA). EA is mostly known for its big label games, particular sports games and first-person shooters. Just last week, EA posted earnings and had a pretty substantial share price decline after issuing lower than expected guidance.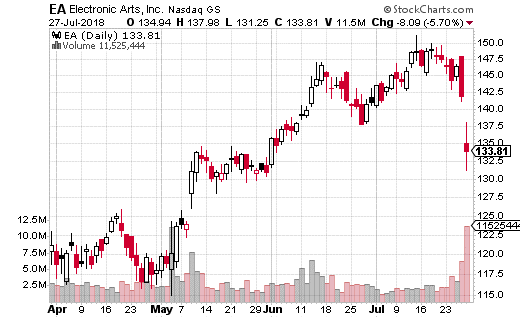 As you can see from the chart, EA stock dropped something like 6% the day after its earnings miss. However, the stock was having a great year up to that point and probably had become overvalued. The drop in share price may have been exactly the entry point some investors were waiting for.
First off, EA has several big games yet to come out this year which could boost revenue and earnings more than expected. I already mentioned the long-term potential of video games as AR/VR tech becomes better and cheaper. And then there's the whole e-sports industry. Playing games competitively is an industry that's growing like crazy and there's a ton of money to be made in that arena, so to speak.