In recent months, it has gotten harder to separate the performance of the U.S. stock market from the performance of the FAANG stocks (Facebook, Amazon, Apple, Netflix and Google/Alphabet).
Despite Facebook's face-plant, after its earnings announcement led to the worst one-day loss ever for any stock, the overall performance of the market year-to-date has been supported by the FAANG group. While they're only a 13.6% weight in the S&P 500's market cap, they're driving the market up to the tune of almost half of its year-to-date gains. Impressive stuff for just 5 stocks on their own. Here is a chart from Bespoke Investment Group that displays that fact graphically.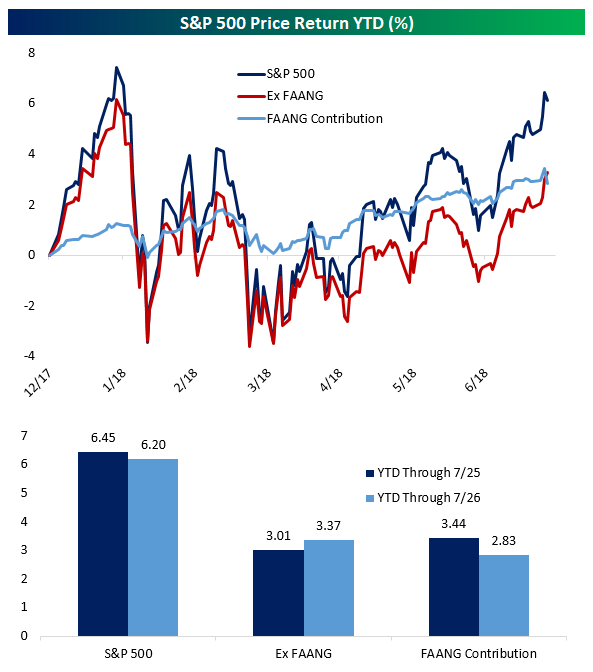 The question facing investors is, of course, whether the FAANG stocks will continue carrying the market or if their leadership is beginning to fade.
Tech Divergence
Investors have taken it as gospel that tech stocks promise unending growth, based on the over-arching macro-trend of a digital revolution across society. This makes them different from other stocks whose growth are more tied to the ebbs and flows of the underlying economy.
As for the FAANGs, they have huge valuations for a reason – these companies have built huge franchises, allowing them to still grow fast, despite their size. That's why, with the exception of Netflix, their stock market valuations have topped $500 billion and Amazon, Apple and Alphabet are approaching the $1 trillion valuation mark.