Trade war tensions seem to have cooled for now and that's a good thing.
Why? Because the percentage of S&P 500 sales from foreign countries is substantial and has been between 43% and 48% since 2006. For technology companies, the percentage is even higher, hovering between 56% and 60% since 2010. If access to these markets is restricted and sales are lost, lofty stock prices for many of these companies will no doubt fall.
The technology group that seems most at risk is the semiconductor industry. It is one of the six "core industries" in President Trump's 'America First' agenda along with steel, aluminum, automobiles, aircraft and shipbuilding.
Semiconductors and Trade
If you ignore trade tensions, the outlook for the chip industry may be its brightest ever. The advent of technologies supporting the "internet of things" and the broader adoption of artificial intelligence portend hefty growth in semiconductor demand, particularly to meet the needs of data centers.
According to SEMI, the association serving the manufacturing supply chain for the electronics industry, global shipments of semiconductor equipment are forecast to grow 10.8% this year and 7.7% in 2019.
Other forecasts have the value of global chip sales jumping 12.4% this year and 4.4% next year. If that happens, it will mark the first period of six consecutive years of growth since a stretch that began in 2002.
However, a trade war and tariffs may end that streak. A 25% tariff on goods imported from China will result in a $20 million to $30 million hit to the semiconductor supply chain, mainly due to higher procurement costs for parts like bearings and cylinders, SEMI said. And if the tariffs are extended to memory chips, the damage would extend beyond $500 million, according to SEMI.
Related: 2 Semiconductor Stocks to Sell and 1 to Buy Because of China
Semiconductors and China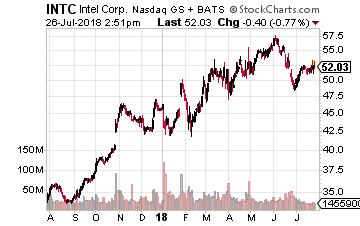 The complexity of the semiconductor supply chain means U.S. companies will be hurt more than their Chinese counterparts by the tariffs, according to the Semiconductor Industry Association.
For example, Intel (Nasdaq: INTC), carries out the most capital-intensive and technologically difficult part of its semiconductor manufacturing in fabs in the U.S., Ireland and Israel. The resulting wafers are then shipped for finishing and testing to plants that include one in Chengdu, China.