A few weeks ago I shared with you an article on the generous dividend stream coming from Asian companies. However, the growth in dividends is a global phenomena, with the actual rise in dividend payments elsewhere outpacing the dividend raises here in the U.S.
Global dividends reached record levels in the second quarter of 2018, reflecting strong earnings and economic growth. Headline dividends jumped 12.9% in the second quarter of 2018 compared with the same period last year to reach a record $497.4 billion, according to the Janus Henderson Global Dividend Index. The Janus Henderson Global Dividend Index ended the quarter at a new record reading of 182.0, meaning that global dividends have risen by more than 80% since 2009.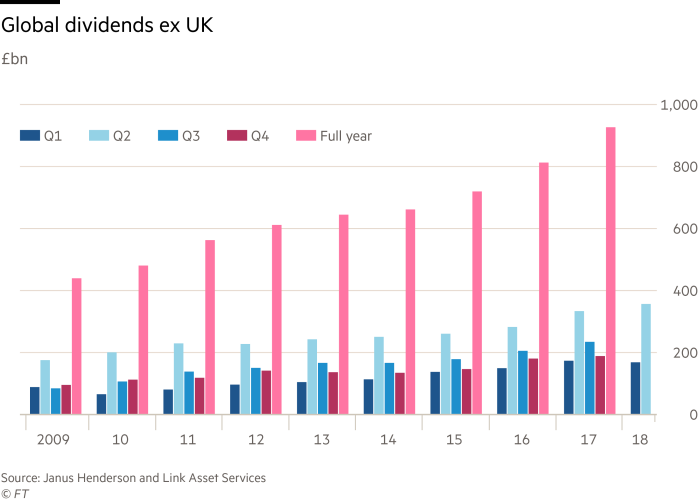 Here are some highlights, courtesy of data from Janus Henderson:
12 countries saw record payouts including Japan, and the United States. Most of the records though occurred in Europe, where total dividend payouts hit record levels in France, Germany, Switzerland, the Netherlands, Belgium, Denmark and Ireland, said Janus Henderson.
Underlying growth of dividends was 9.5%, the fastest pace in three years.
Forecast for the underlying growth rate of dividends going forward was upgraded by Janus Henderson from 6.0% to 7.4%.
It's interesting to note that, despite dividend payouts in the U.S. hitting a record $117.1 billion in the quarter, the growth rate of dividend payments was less than elsewhere in the world, with a rise of only 4.5% in headline terms. European companies paid a record $176.5 billion in dividends, an 18.7% jump year-on-year. Asia's dividends, excluding Japan, jumped 29.2 % in headline terms to $42.8 billion, or 13.5% in underlying terms. Japanese dividends rose 14.2% in headline terms.