Throughout U.S. corporate history, there have been some very memorable company founders such as JP Morgan and Henry Ford. Fast forward a few decades and we have Bill Gates and Steve Jobs.
I suspect though that history will less kindly remember the current batch of founders including the likes of Travis Kalarick of Uber, John Schnatter of Papa John's and Elon Musk of Tesla. These entrepreneurs succeeded initially, but failed to come up with a succession plan to transition to a professional management. And worse, they've stayed on too long, becoming both an embarrassment and a hindrance to their respective companies.
In the case of Musk and Tesla, he may have let his strong dislike of people pointing out the flaws in his company's finances go so far that he may have committed a crime with his "funding secured" tweet. The U.S. government has launched a criminal investigation into Tesla.
All of the above examples are companies that failed at the very important task of planning for the replacement of an executive who serves not only as the company's manager but also as its pitchman and inspiration. These companies should all have planned for a staged withdrawal with the elevation of several key executives to key positions. But Tesla for example, cannot seem to keep an executive for more than a few months.
However, there are companies that have done things right. Here are two examples, with one company's success very plain to see and another that I believe will continue its success after its founder leaves.
Microsoft's Teddy Roosevelt
Former President Teddy Roosevelt is perhaps best known for his approach to foreign policy that was summed up in one phrase, "Speak softly and carry a big stick."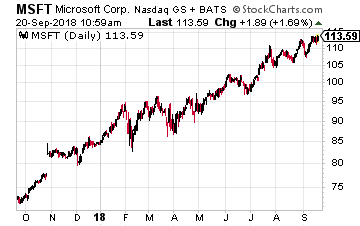 That seems to be the approach of Microsoft (Nasdaq: MSFT) CEO Satya Nadella. His default posture, even with rivals, is to discuss mutual advantage first, competition second. This is in stark contrast to his predecessor – the boisterous Steve Ballmer and Microsoft founder Bill Gates, who both took business as an us-versus-them competitive fight to the death.
That attitude had Microsoft's stock and business going nowhere for more than a decade. In contrast, Nadella's 'soft' approach has worked marvelously. The company's strong revenue growth have pushed its shares to an all-time high. Microsoft's revenue expansion is being powered by cloud computing services for businesses, where revenues have climbed from a single-digit percentage to a third of sales in just five years. Its emphasis on cloud computing is evidence that Mr Nadella was tough enough and carried a big enough 'stick' to win the internal company battle with the guardians of Microsoft's legacy personal computing businesses.