Even as technology invades other areas of industry, there has been one notable laggard in adopting new technologies – the energy industry.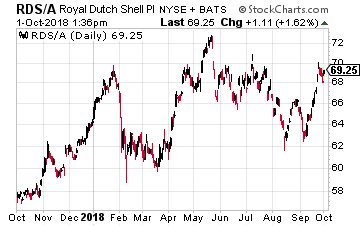 Even the mining industry is using robots to automate many of the functions at mines, but autonomous robots are still a rarity in the oil and gas industry (more on that later). So it is major news that RoyalDutch Shell PLC (NYSE: RDS.A and RDS.B) is investing in an artificial intelligence (AI) platform to support operations across the entire group.
Shell and AI
The company providing the AI platform for Shell is C3IOT on Microsoft Azure. The main initial application of AI at Shell will be for predictive maintenance – such as working out when a piece of equipment is likely to fail, so it can be replaced before it breaks. The company says that more than 600,000 assets from individual pieces of equipment to entire wells will be covered by the predictive maintenance program.
The long-term goal though is to expand the AI platform to support other machine learning, machine vision, and natural language processing (NLP)-based uses in all of Shell's operations – upstream, downstream, unconventional fuels, refining, and retail operations.
Jay Crotts, Shell Group CIO said "With the C3 IoT Platform, we're looking forward to significantly enhancing the productivity and scope of our advanced analytics capabilities to create greater economic value across Shell's operations. C3 IoT allows us to optimize our existing investments in data and cloud infrastructure while accelerating time to value of AI-based applications, so Shell can better serve our customers with even more agility and efficiency."
I cannot emphasize enough that this is a really big deal in the artificial intelligence space. Tom Siebel, C3 IOT's CEO, described the deal with Shell to the Financial Times as "the largest AI deployment that we're aware of anywhere in the world."
And he correctly suggested that the company had jumped ahead of its oil company peers. Siebel said to the Financial Times, "Everybody else is kind of looking at it. These guys are rolling it out." Siebel predicts that the benefits for Shell will run into the billions of dollars per year!