Can Apple Save Your Portfolio from the Market Crash?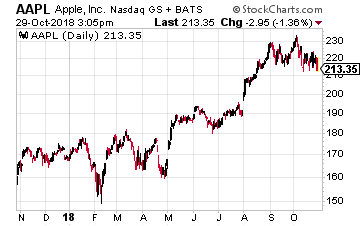 After disappointing results and forward guidance from both Alphabet and Amazon, Wall Street is now focused on the biggest technology stock of them all – Apple (Nasdaq: AAPL) – and its results, which are being announced on Wednesday, November 1 after the close.
It is hoped by the pundits you see on CNBC that Apple's results will blow away expectations and 'save' the market. I though am much more interested in what the long-term future holds for Apple, rather than the very short-term.
And here the outlook is rather murky… Apple has both great challenges and great opportunities.
Apple and China
Let me start off first with a major challenge for Apple… China.
Apple shareholders are well aware that China is Apple's second-biggest market after the U.S. And it has been a major source of growth for Apple in recent years. China itself is responsible for 13% of overall revenues, with the Greater China region accounting for 20% of Apple's revenues.
But that looks to be changing. That change may be the result of the trade war or, more likely, due to changing consumer tastes in China.
Apple is starting to struggle in China as domestic brands including Huawei (now number two in the world in the number of phones sold) and Xiaomi gain in popularity. This looks to be a long-term trend change as, especially in China's largest cities, the mystique of foreign brands is fading. Chinese consumers are getting more sophisticated and the better local brands are becoming more popular.
In a recent annual survey of China's favorite brands, Apple dropped out of the top 10 with a fall from fifth to eleventh. And one of its main rivals in China – Huawei – jumped from twelfth to fourth.
And with few foreign brands having success in India, Apple's hopes for volume growth seem slim. That leaves pricing as a major way to boost profits.