Stocks have been on a rollercoaster ride since early October when Fed Chairman Powell told the market that neutral interest rate levels were a "long way away" from the current rate. And while Mr. Powell reversed course last week, the damage had already been done to a market weary of tariffs and shaken by ever starker housing numbers.
Outsized Impact of a Few Stocks
More and more the so-called FAANG stocks, Facebook (NYSE: FB), Amazon (Nasdaq: AMZN), Apple (Nasdaq: AAPL), Netflix (Nasdaq: NFLX) and Google (Nasdaq: GOOGL, GOOG) have an outsized impact on the overall market. At one point last week these behemoths had lost over $1 trillion in market value from their recent highs.
The FAANG stocks now make up a massive percentage of the Nasdaq Composite Index. Even after the recent sell off, they are still over 35% of the index. And if we add in Microsoft (Nasdaq: MSFT)we get to well over 45% of the Nasdaq Index being represented by just 6 stocks.
And it is not just the Nasdaq that is overly impacted by these few stocks. As of July of this year, these six stocks represented an unbelievable 98% of the returns of the S&P 500. At that time the S&P was up 4.4%.
Investing in a market index is meant to give your portfolio diversification over a range of stocks. The Nasdaq is known to be technology focused and is often called a tech index, while the S&P is a broad index meant to represent a wide range of companies. But the shear size of the FAANG stocks and Microsoft have made these indexes much less diverse.
The overrepresentation of these six stocks is a major issue for investors who hope to diversify their investments by way of the indexes. There is a false sense of diversification, and as we saw in October, the impact of scandals at Facebook, projected slowing iPhone sales, and increased competition in streaming video, had major impacts on the overall markets due to just a few stocks.
If you want true diversification in your growth portfolio it is necessary to find individual stocks with good growth prospects. The following are three stocks that I believe should outperform the non-diversified indexes moving forward.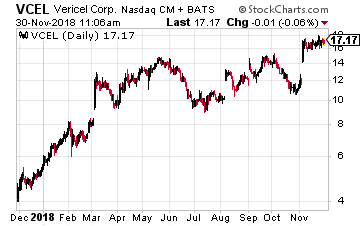 Vericel Corporation (Nasdaq: VCEL)
Vericel is capitalizing on two strong trends. An aging population and the trend for improved health through exercise. Both trends have the side effect of deteriorating or damaging the cartilage in our knees. MACI, the company's cartilage replacement technology, removes a small amount of tissue from the patient, and then grows new cartilage which is then implanted in the patient.