When it seems like every stock you own is going down, it's a nice (and financially good) feeling to have a few in your portfolio that are bucking the trend by staying steady to higher. If these stocks are high-yield, dividend payers, it's even better.
During the recent correction in the stock market's high flyers, financially secure, dividend paying stocks have been putting up sustained share price gains.
In a falling stock market there will always be a few stories positive enough to keep individual share prices from following the market into the rabbit hole. Sometimes it's a business that prospers during the current negative economic climate. Sometimes it's just the right time for a stock to take off, no matter what the broader market is doing.
Here are three high yield stocks that are holding up well in the current volatile stock market.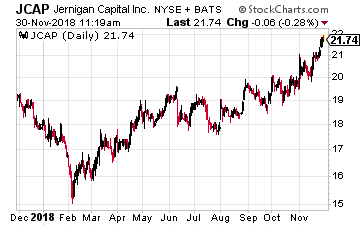 The Jernigan Capital (NYSE: JCAP) share price bottomed in February 2018 and has been climbing ever since. The stock just set a new 52-week high. Jernigan Capital is a finance REIT that provides capital for the construction of new self-storage facilities. With each project financing, the REIT also receives an equity share of the new facility.
The company is just 3 ½ years old and has yet to meaningfully realize the financial benefits of the equity stakes. That is about to change, which may be the reason investors continue to bid up the JCAP share price.